This Dunn County News article by Editor Travis Nyhus appeared in the March 26, 2020 edition.  Here's the link to the story. or check out the article below:
As community activity slows down, Stepping Stones continues to provide for those in need
As community needs increase, Stepping Stones of Dunn County looks to deliver.
With the current COVID-19 pandemic, the Menomonie food pantry and homeless shelter has needed to adapt to continue supplying the community with essential items.
Stepping Stones Executive Director Katherine Dutton said the food pantry has made necessary changes to provide food to those in need while following state-wide mandates to prevent the spread of the virus.
The pantry has moved to only curbside pickup with individuals having a box of food brought out by volunteers and placed in their cars. Every box is prepacked and that means options of what food people receive has been removed, something Dutton said isn't ideal.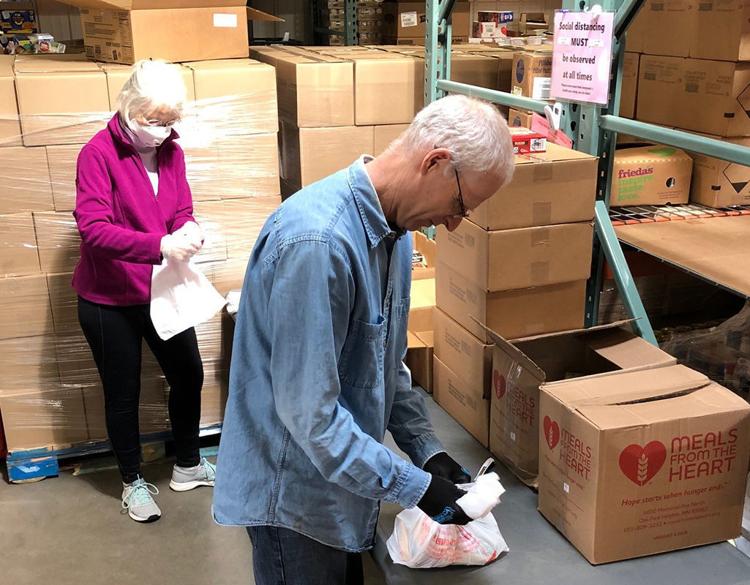 "It's been a big change as people aren't able to choose the food they'd most like to have, which is not the best," Dutton said. "We prefer that they'd be able to make those choices but we had to move to the distribution for everybody's safety."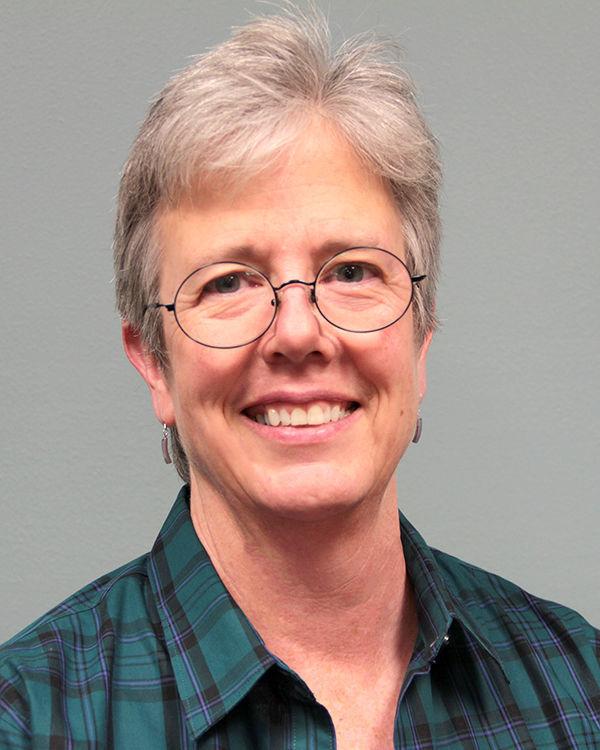 Other changes include Friday's pick-up of produce only being canceled. Produce will be pre-boxed and available Saturday and Monday. Monthly Senior Commodity Box distribution will continue as part of curbside pick-up and Project SAM (Share a Meal) bags will be available during curbside hours on Friday and Saturday. Project SAM bags are also available at the food distribution sites at Menomonie Middle and High schools and Wakanda Elementary.
Dutton said the number of families being served is becoming higher than normal and she expects that to continue to rise. Anyone in need that hasn't before used the pantry is welcome to receive food. To keep up with demand requires larger orders of food and more volunteers to packaged it.
With many of Stepping Stones volunteers being senior citizens and that demographic has higher risks should they contract COVID-19, Dutton said they've had some volunteers choose to temporarily step away from donating their time. Having to limit the number of workers at a time due to gathering regulations it takes longer to sort and package food boxes and there is more of a need for willing volunteers.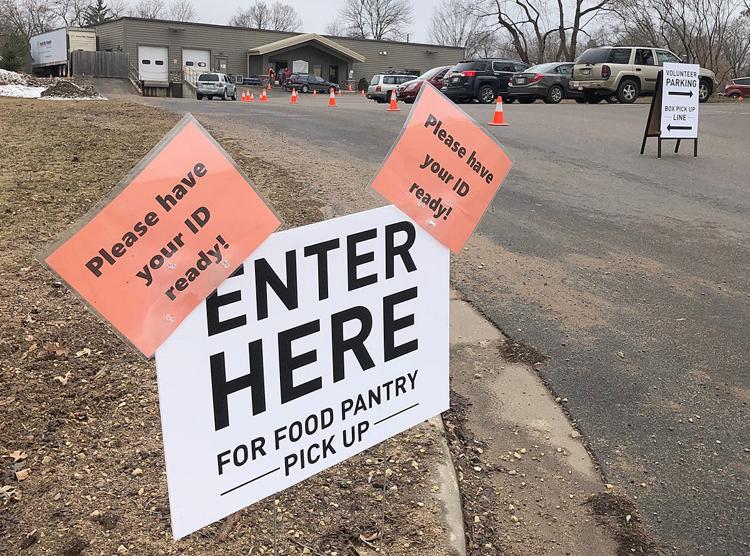 "We definitely are short on volunteers because we can't have very many at one time so it just takes longer to do everything, so we need more people," Dutton said.
Dutton said people can get involved by adding their name to a list of volunteers. Those interested in volunteering can contact Stepping Stones Community Connections Program Coordinator Jill Seichter by calling the office at (715) 235-2920 or emailing communityconnect@steppingstonesdc.org. Shifts are 2-3 hours every day except Sunday.
While typically Stepping Stones accepts food donations, Dutton said, the organization is looking for financial donations to purchase food. With less volunteers and staff on site and with the building closed to the public, Stepping Stones isn't able to collect food donations from the community.
"We're ordering a lot more food than we normally would so we can make sure to stay supplied," Dutton said, "which means we're need more financial donations to ensure that we can keep having enough food on hand and we're trying to keep up with the packing."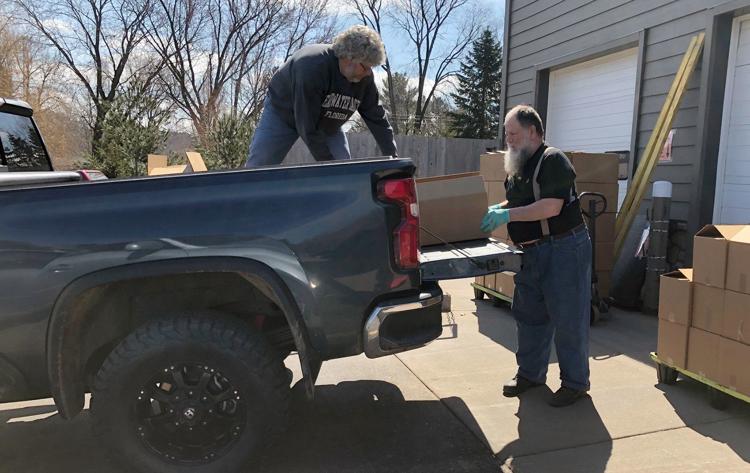 With the building closed to the public those in need should call the office at (715) 235-2920. Those interested in donating financially can do so online at steppingstonesdc.org or by mail at 1602 Stout Road, in Menomonie. While the food pantry has needed to evolve, the homeless shelter hasn't been impacted quite as much with apartment style housing allowing individuals to shelter in place.
Dutton said while there isn't an immediate concern about Stepping Stones not being able to keep up with community needs because some people have been gracious with their time and money, they've needed to plan for the possibility that a positive COVID-19 case within the staff could quickly alter how they operate. No matter the test Stepping Stones faces, Dutton said, the organization will be prepared to continue meeting the needs of the community.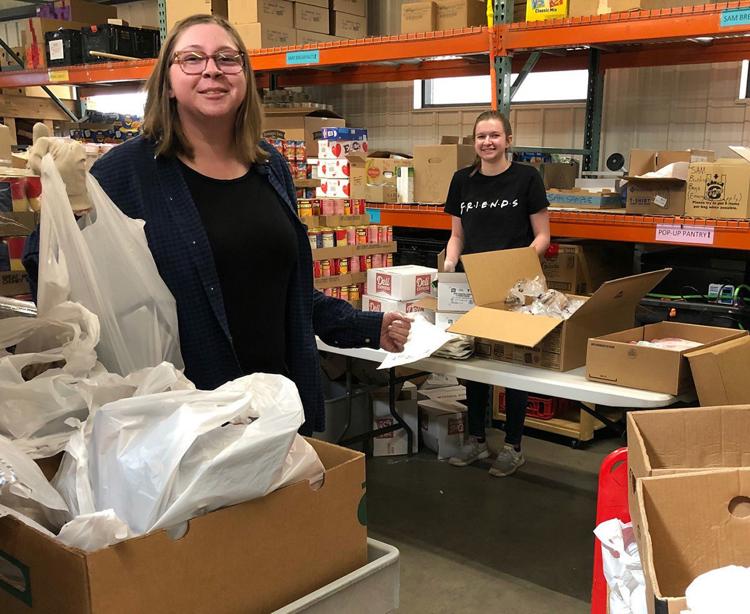 "There's always some degree of concern," Dutton said of keeping Stepping Stones in operation. "Right now financially people are helping out with the current crisis and people are contributing, so we really appreciate that. Last year we had a really challenging year financially but we managed to end okay, and so this year is going to have all new challenges, it already does."